The Braspag support works from Monday to Friday, 09:00 AM to 07:00 PM through our four main channels: Call, WhatsApp, Chat and Ticket.
Call
It's possible to contact +55 11 4003-3058 to get fast answers about any information, to speak with our Sales team or Financial team, to ask about a specific ticket or speak directly to our Support team.
Chat
We also have available a Chat where you can ask about our services, your integration or clear any doubts you have. You only have to use the Chat Box placed on the lower right: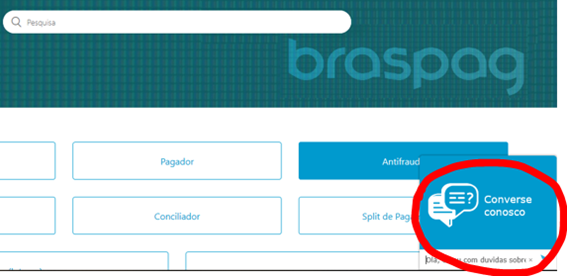 After filling the contact form click "Start Chatting":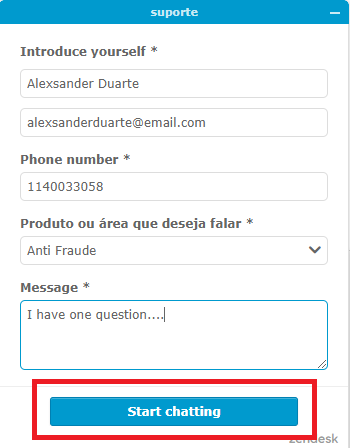 The message will reach one of our attendants so you can have a live chat with them and get the answer you need.
WhatsApp
Another option for a fast answer is WhatsApp, you can send a message to +55 (11) 98541-0288 so it will reach one of our attendants and have your answer right back.
Ticket
In cases that will need a deep analysis we recommend to send a ticket, so we can properly forward your issue to the most qualify team. To send a ticket you will need a user to our support application, you can create one trough phone or Chat.
Placed at upper right you will have the option "Submit a request":

On the following screen you will need to fill the form about the issue at hand: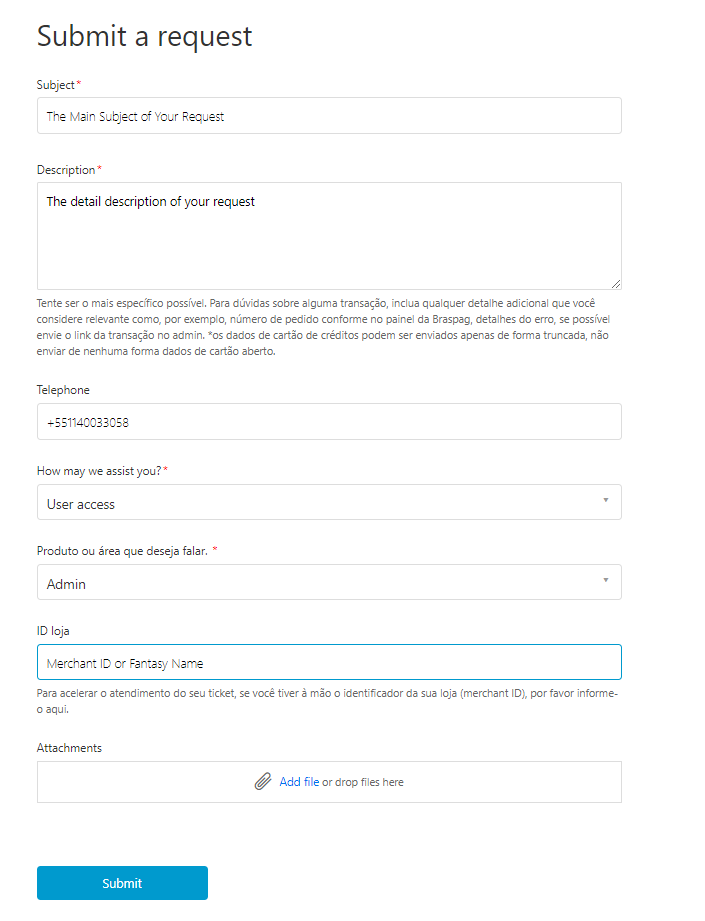 After fill all the fields use the option "Submit" at the end of the page.
The ticket will be forward to one member of our Support team, the comments and interactions will also be send to the e-mail registered to your user.
To visualize the status of your requests you can use the option "My Activities":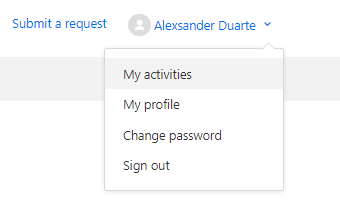 On the next screen you will be able to see all of your requests and search for any specific ticket of yours:

Bellow are the possible status for your ticket:
OPEN: your request is being analysed and you will receive an answer soon.

AWAITING YOUR REPLY: your request was answered and it's waiting for your reply or close the ticket if it's solved.

SOLVED: your ticket has being solved and it was closed.